Blue Soul Summit is a platform of video interviews, all focused on topics and ideas making a dent in consciousness. In our inaugural Season 1, listen to five powerful voices whose work has turned ideas upside down and inside out, challenging traditional ways of thinking, doing, being, and acting. From philosophy, medicine, finance, and societal issues, to spirituality, film, archeology, and history, you'll discover new paradigms that may just change the way you view yourself in the world as well as everyone and everything else around you.
Speakers in Season 1 include: Tim Freke, Neale Donald Walsch, Dr. Neha Sangwan, Simcha Jacobovici and Mark Gober.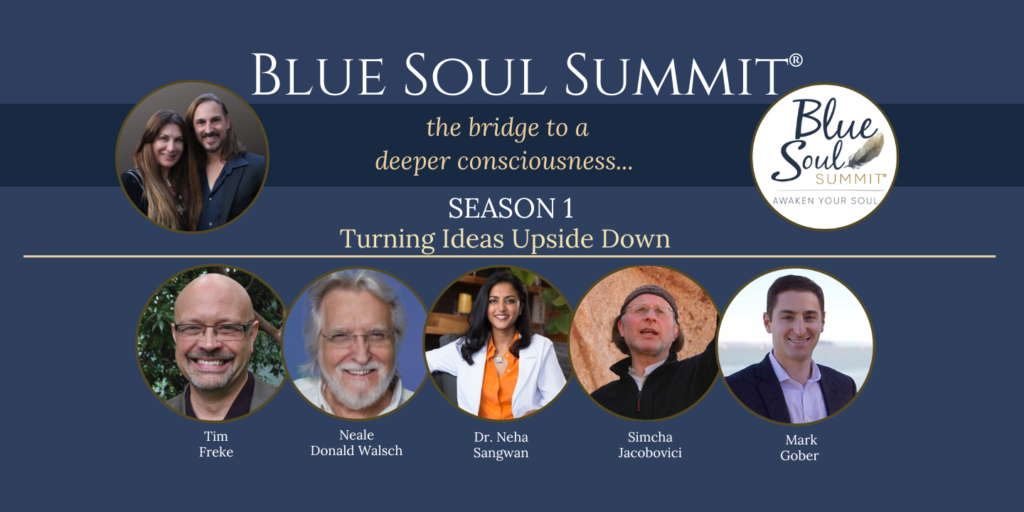 Tim Freke is a pioneering philosopher whose bestselling books, inspirational talks, and life-changing events have touched the hearts and minds of hundreds of thousands of people worldwide. He has been exploring spirituality since a spontaneous awakening when he was 12 years old.
Tim is the author of 35 books, translated into 15 languages, including a top 6 Amazon 'Surprise Bestseller' and Daily Telegraph 'Book of the Year'. In his latest books, Deep Awake and Soul Story, Tim offers a revolutionary approach to awakening for the 21st century and a visionary new understanding of the nature of reality. He is also the creator of Unividualism: A Deeper Way of Living and the founder of The International Community of Unividuals, which combines evolutionary science and deep spirituality to offer a visionary new understanding of the nature of reality and the purpose of life.
Neale Donald Walsch is a modern-day spiritual messenger whose words continue to touch the world in profound ways. With an early interest in religion and a deeply felt connection to spirituality, Neale spent the majority of his life thriving professionally, yet searching for spiritual meaning before experiencing his now famous conversation with God.
The Conversations with God series of books that emerged from those encounters has been translated into 37 languages, touching millions and inspiring important changes in their day-to-day lives. Neale has written 39 books on spirituality and its practical application in everyday life. Seven of the books in that series reached the New York Times Best Seller list.
Neha Sangwan, M.D. is the CEO and founder of Intuitive Intelligence, an internal medicine physician, international speaker, and corporate communication expert. Her private practice and corporate consulting focuses on empowering individuals, organizational leaders, and their teams with the tools for clear, effective communication. She addresses the root cause of stress, miscommunication, and interpersonal conflict, often healing chronic conditions such as headaches, insomnia, anxiety, and depression.
She regularly consults with organizations such as the American Heart Association, American Express, Kaiser Permanente, and Google, and has shared her keynote presentation on the stages of TEDx.
Simcha Jacobovici is a three-time Emmy winner for Outstanding Investigative Journalism. His filmmaking awards include a Certificate of Special Merit from the Academy of Motion Picture Arts & Sciences, a Gold Medal from the International Documentary Festival Nyon, two US CableACE Awards, a Royal Television Society Award, two Gemini Awards, and countless others.
In 2017, he was awarded the Gordon Sinclair Award, Canada's highest achievement in Broadcast Journalism, from the Academy of Canada Cinema and Television.
As an early advocate of airlifting Ethiopian Jews to Israel, he wrote an op-ed piece on the subject for the New York Times and made his first documentary, Falasha: Exile of the Black Jews. The Economist cedited Jacobovici's documentary as one of the factors leading to the 1984–85 Israeli airlift of Ethiopian Jews to Israel.
Mark Gober is the author of An End to Upside Down Thinking, which was awarded the IPPY award for best science book of 2019. He is also the author of An End to Upside Down Living (2020), An End to Upside Down Liberty (2021), and An End to Upside Down Contact (2022); and he is the host of the podcast Where Is My Mind? (2019). Additionally, he serves on the board of the Institute of Noetic Sciences and the School of Wholeness and Enlightenment.
Previously, Gober was a partner at Sherpa Technology Group in Silicon Valley and worked as an investment banking analyst with UBS in New York. He has been named one of IAM's Strategy 300: The World's Leading Intellectual Property Strategists. Gober graduated magna cum laude from Princeton University, where he wrote an award-winning thesis on Daniel Kahneman's Nobel Prize–winning "Prospect Theory" and was elected a captain of Princeton's Division I tennis team.