In Season 3, listen to five powerful voices whose work has been the result of overcoming obstacles, which led them into living, breathing and becoming their life's purpose. Topics cover physical and emotional pain, the power of love, tuning forks and vibrations, somatic dance and movement, how to move beyond the grip of fear and more.
Our speakers include Bernadette Pleasant, Matt Kahn, Amberly Lago, Eileen McKusick, and Hesna Al Ghaoui. Learn a bit more about each of Season 3's voices below.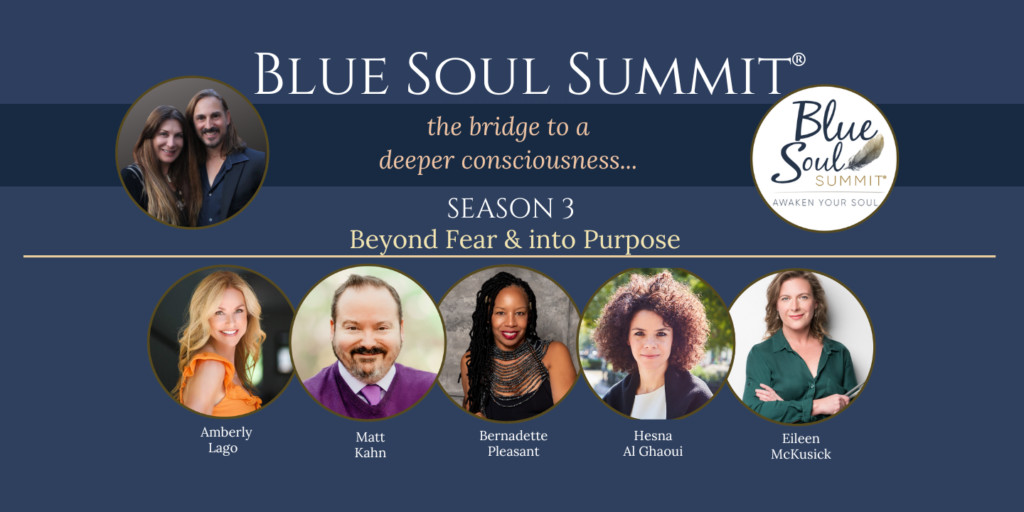 Bernadette Pleasant is a fiery and sensual speaker, somatic healer, the founder of The Emotional Institute and Creator of Femme!, a mind-body wellness program. She also created a 400 Years, somatic-based anti-racism program. She is known for channeling her personal journeys and radical empathy into transformative, immersive experiences that support and celebrate people of all genders, colors, ages and sizes. She has transformed the lives of thousands of people around the world, inspiring them to become more self-expressed and empowered as their own badass selves.

With certifications in Emotions-Centered Coaching, Somatic Healing, Integrated Energy Therapy and studies in African, Tribal, and Free Dance, Bernadette promotes emotional freedom through movement and empowerment. She also facilitates deep and refreshingly real dialogues on emotional healing, grief, and unlearning racism. A woman of color, Bernadette comes from a long line of natural healers who have used touch and movement to help others find peace and wellness. Her classrooms, both online and in person, welcome participants without judgment, supporting all to experience comfort and pleasure in their own skin.
Matt Kahn is an incomparable spiritual teacher, highly attuned empathic healer, powerful speaker, and captivating author. He enriches people's lives by providing heart-centered solutions that ignite, delight, and unite! Matt wrote the highly acclaimed books Whatever Arises, Love That, Everything Is Here to Help You, and The Universe Always Has a Plan, which have been translated into more than a dozen languages. His second book, Everything is Here to Help You, was featured in the "Be Kind" box by Ellen Degeneres.
His newest book, All For Love: The Transformative Power of Holding Space, is receiving accolades and is topping bestsellers lists. Matt has become a YouTube sensation with his healing and often humorous videos. With 21+ million YouTube channel views, followers are finding relief from the challenges of daily life through his heart-centered messages. Among his honors, Matt was named one of the top 100 Most Spiritually Influential Living People by Watkins Magazine, alongside the Dalai Lama and Eckhart Tolle. When the world gets crazy, help is here – one "I Love You" at a time.
Amberly Lago is a leading expert in the field of resilience, transformation, and health and wellness. She is the best-selling author of True Grit and Grace and empowers people around the world by sharing the story of how she turned a tragedy into triumph. She is a former professional dancer and athlete bringing a new perspective on what it takes to persevere.
Showcasing heartfelt, true stories of struggles and success to inspire you to keep your eyes on the prize and forge ahead. Amberly delves deep with the world's brightest thought-leaders and elite performers to inspire, educate, and empower you to claim your resilience and thrive. Amberly's life story of astounding resilience has inspired a revolutionary lesson she offers to the world. She brings unique strategies developed to teach others how to tap into their superpower of resilience and persevere through any challenge. Her keynote speeches, best-selling book, workshops, and podcasts offer hope and solutions for living life at its fullest to those in chronic pain (like her) and those who find themselves struggling against any obstacle.
Eileen McKusick is an author and thought leader in health and human potential who has conducted pioneering research in the new paradigm of electric health and biofield science. In 1996, she picked up her first set of tuning forks and began incorporating them in her massage therapy practice. After witnessing the positive effects on her clients, she began researching the effects of therapeutic sound on the human body and energy field, ultimately creating the sound therapy method of Biofield Tuning. She has an MA in Integrative Education and completed her master's thesis, Exploring the Effects of Audible Sound on the Human Body.
Eileen is the author of two books on sound therapy and biofield science. Her first book Tuning the Human Biofield: Healing with Vibrational Sound Therapy (based on her Master's thesis) won the 2015 Nautilus Silver Award and 2017 Gold COVR award. Her second book, Electric Body, Electric Health is a groundbreaking look at the electric nature of the human body, emotions and life itself. She is also the founder of Biofield Tuning Institute, which conducts grant-funded, peer-reviewed and published research on the human biofield in partnership with other research organizations.
Hesna Al Ghaoui is an award-winning journalist, editor, reporter and author. Over the past years she has been the correspondent of the Hungarian Television and has reported the world from more than 20 countries among them from several combat zones. The reports have been awarded a number of prestigious national and international Prizes. She has also shot documentaries, among others the one about the causes of child mortality in Uganda or about the challenges of the international aid system in Afghanistan.
Throughout her career, she has interviewed prestigious personalities, such as Pope Shenuda III., Israeli President Shimon Peres, Israeli Prime Minister Benjamin Netanjahu, Palestinian President Mahmoud Abbas, Secretary General of the Arab League Amr Mousa, and world-famous experts like social psychologist Elliot Aronson, psychologist Philip Zimbardo and social psychologist Anthony Pratkanis. Her TV program Babel – The World with Hesna – profiles fascinating life stories. Based on her experiences and interviews related to fear, she wrote the book Fear Bravely and Holli, the Hero for children.