Blue Soul Summit's Season 2 is dedicated to Re-Thinking Science. Listen to six powerful voices who are bold enough to challenge traditional thinking in science and present alternative views, important research, mind-bending ideas, and more. Tuning into these visionaries may just change the way you see your place in the world as well as the nature of medicine and healing, as you've always been taught to approach them. Leaning into new paradigms is just the first step to not just understanding "new" science, but embracing it. See how and where the combination of data with actual experience is transforming people's lives.
Season 2's speakers include Dr. Shamini Jain, Dr. Dawson Church, Dr. Rollin McCraty, Helane Wahbeh, Dr. Paul J. Mills and Tiffany Jean Barsotti.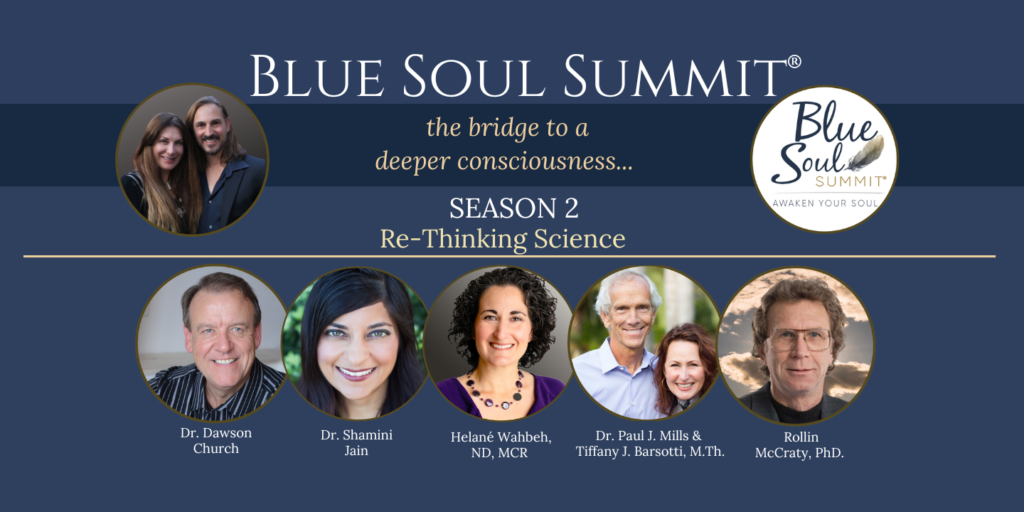 Shamini Jain, Ph.D. is a psychologist, scientist, and social entrepreneur. She is the founder and CEO of the Consciousness and Healing Initiative (CHI), a nonprofit collaborative accelerator that connects scientists, health practitioners, educators, and artists to help lead humanity to heal ourselves. Dr. Jain also serves as adjunct faculty at UC San Diego, where she is an active member of the UC San Diego Center for Integrative Medicine's Research Committee.
She obtained her BA degree in Neuroscience and Behavior at Columbia University, her MA degree in Integrative Health Psychology from the University of Arizona, and her Ph.D. in Clinical Psychology and Psychoneuroimmunology from the San Diego State University/UC San Diego Joint Doctoral Program in Clinical Psychology. Jain has received numerous awards for her pioneering research in meditation, biofield healing, and psychoneuroimmunology, which have been featured in TIME, US News and World Report, CNN, and other news media.
Jain is an international keynote speaker and teacher at places like Esalen and Kripalu. She integrates her background in clinical psychology, psychoneuroimmunology, Jain spiritual wisdom, and the healing arts. She is a member of the Evolutionary Leaders Circle, and serves as a board member and advisor for several nonprofit and social benefit companies. She is also the author of the bestselling book, Healing Ourselves: Biofield Science and the Future of Health.
Dawson Church, Ph.D. is an award-winning science writer with three best-selling books to his credit. The Genie in Your Genes was the first book to demonstrate that emotions drive gene expression. He is the author of many award-winning books. His book Mind to Matter showed that the brain creates much of what we think of as "objective reality." Bliss Brain demonstrates that peak mental states rapidly remodel the brain for happiness.
Dawson has conducted dozens of clinical trials, and founded the National Institute for Integrative Healthcare (NIIH.org) to promote groundbreaking new treatments. Its largest program, the Veterans Stress Project, has offered free treatment to over 20,000 veterans with PTSD over the past decade. Dawson shares how to apply these health and performance breakthroughs through EFT Universe (EFTUniverse.com), one of the largest alternative medicine sites on the web. Church is a former president of the Family Connection, one of 53 nonprofits named as Points of Light by President Bill Clinton, and is also a member of the Transformational Leadership Council. Books on which he has worked have won over two dozen awards. 
Rollin McCraty, Ph.D. is director of research at the HeartMath Institute and a professor at Florida Atlantic University. McCraty is a psychophysiologist whose interests include the physiology of emotion. He has worked closely with HeartMath's founder, Doc Childre, to develop HMI's research goals and has been instrumental in researching and developing the HeartMath System of tools and technology.
McCraty and the members of his research team have worked in joint partnership with research groups at Stanford University, Claremont Graduate University, Dalhousie University in Halifax, Nova Scotia, Prince Sultan Cardiac Center in Saudi Arabia, and the University of Lithuania among many others.
He has appeared in television segments for CNN Headline News, ABC World News Tonight, ABC's Good Morning America, NBC's Today Show, PBS's Body & Soul and the Discovery Channel. Rollin is one of the primary creators of the Global Coherence Initiative and the principal designer of the Global Coherence Monitoring System and its international network of magnetic field sensor sites.  
Helané Wahbeh, ND, MCR, is the Director of Research at the Institute of Noetic Sciences (IONS) and an adjunct assistant professor in the Department of Neurology at Oregon Health & Science University. She completed her undergraduate degree at University of California Berkeley in Anthropology and Pre-Medicine, obtained her clinical doctorate at the National University of Natural Medicine, and her Master of Clinical Research from Oregon Health & Science University. She also completed two post-doctoral research fellowships.
Her VET-MIND study funded by the National Institutes of Health examined the mechanisms of meditation for combat veterans with PTSD. Her current research interests include healing stress and trauma, examining mechanisms of mind-body medicine, and rigorously studying extended human capacities.  She was recently named the President of the Parapsychological Association. Wahbeh is the author of some 90+ peer-reviewed publications and the book The Science of Channeling: Why You Should Trust Your Intuition and the Force That Connects Us All. The Science of Channeling is written in true noetic fashion as it seeks to unite science with practical application.
Paul J. Mills. MD. is Professor of Family Medicine and Public Health and Director of the Center of Excellence for Research and Training in Integrative Health. The Center is advancing research excellence in integrative health to transform how medicine is practiced, supporting education and mentorship in integrative health research for students as well as healthcare professionals, and helping to guide the creation of new models of clinical care, combining the best of traditional medicine and evidence-based integrative therapies. The overarching goal is to advance the investigation of integrative health approaches and the integration of effective approaches in health care.

He is also Chief of the UC San Diego Behavioral Medicine Division, Director of the UC San Diego Clinical Research Biomarker Laboratory, and Co-director of the UC San Diego Clinical and Translational Research Institute's Translational Research Technology (TRT) Program. Paul is also serving as Director of Research for the Chopra Foundation.
Tiffany Jean Barsotti, M.Th., Ph.D. is an internationally renowned medical intuitive, spiritual healer, clinician, and researcher of subtle energy and biofield therapies. Dr. Barsotti's published in prominent Integrative Medicine journals and books on topics of integrative medicine, consciousness studies, and the human biofield, sharing co-authorship with clinicians and scientists from academic institutions around the United States.
She has presented her work at numerous venues, including the annual Science of Consciousness Conference, Science and Nonduality Conference (SAND), the Academy of Integrative Health and Medicine Conference, and the Chopra Center for Wellbeing.